Please avoid using single # headers. Instead, utilize proper header hierarchy by employing ## for main headers and ### for sub-headers. This approach ensures that your headers will be displayed correctly in the table of contents.
The quotations can/should be deleted as they are only for your information. Of course, you are free to use quotations where you see fit.
Please also add the table of contents in your submission. You can do this in the editor menu by clicking on the cogwheel icon and click on "Insert table of contents". This will add <div data-theme-toc="true"> </div> to the bottom of your topic. When you use this template it should already by included at the bottom.
Description
This serves as a submission template for when you submit your extension to the wiki. Even if you opt not to use the template, adhere to the prescribed layout order. Our intention is to provide users and reviewers with a clear understanding of the location of each element within every available extension.
Video Tutorial
Incorporate a YouTube link following the format demonstrated in the RAW. The embedded video will be visible for public or unlisted videos; therefore, ensure that your video's privacy settings fall under either of these categories.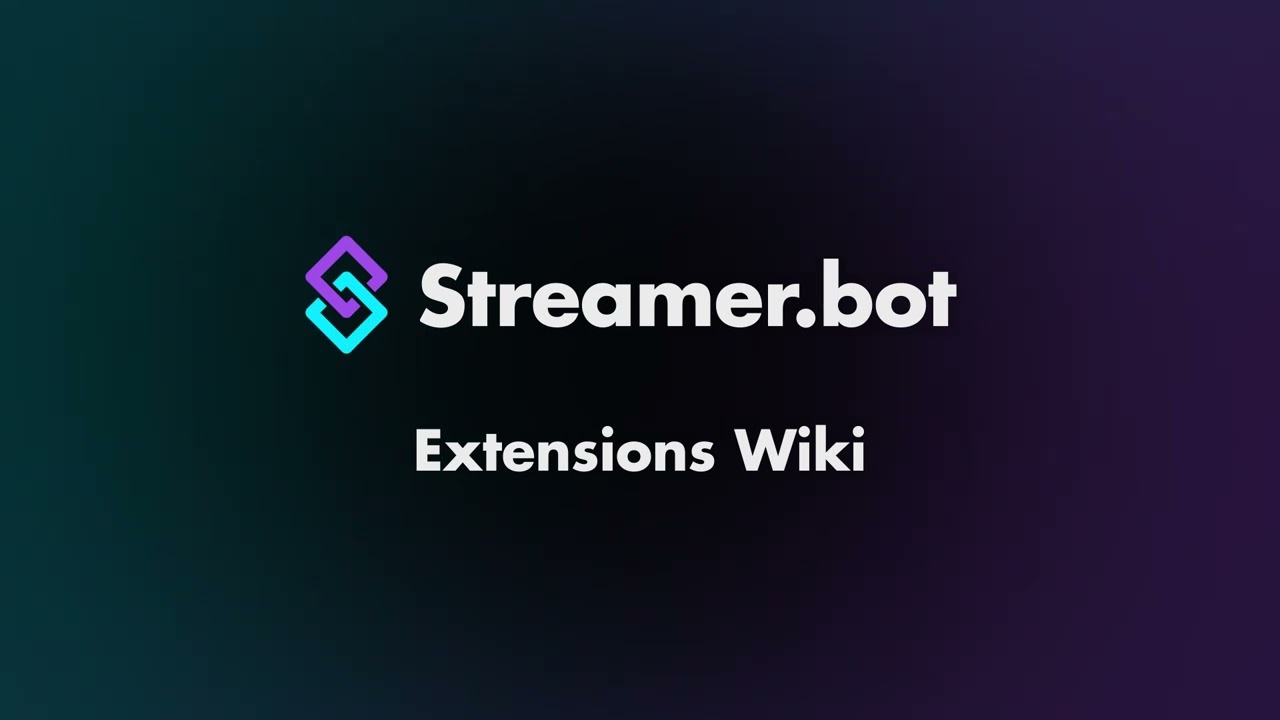 Import Code
Please use the file upload feature in the editor menu, to upload your export file. The file should have the .sb extension. When uploading a file it will automatically create a hyperlink and will add the filesize information.
Resources
For your extension to function effectively, provide hyperlinks to essential resources or upload them. Please use clear titles that are easily comprehensible to users. Follow the hyperlink format below as seen in the RAW or use the hyperlink button in the editor menu.
Installation
Always describe first how to import the .sb file into Streamer.bot
In Streamer.bot click the Import button in the top menu. Drag the .sb file into the Import String field.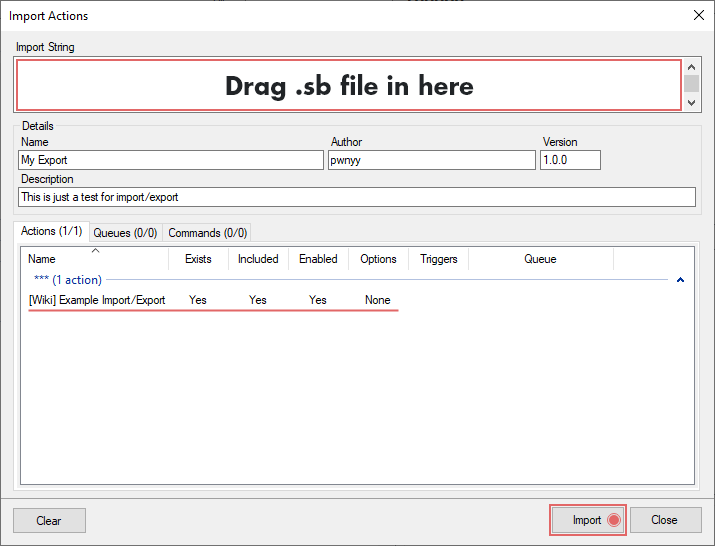 Now describe the remaining installation steps for your extension.
First Step
Describe the step and add screenshots if needed.
This is the first thing you do.
This is the second thing you do.
…
Second Step
Describe the next step
Configuration
Detail the configurations and adjustments available within your extension. This includes all customizable elements that users can modify according to their preferences. Ensure that these options are not embedded within your C# code; instead, they should be directly accessible within the action, allowing users to easily make edits.
Action 1 Configurations
Example text.
Action 2 Configurations
Example text.
Commands
Display the available commands if your action uses them.
| Command | Description |
| --- | --- |
| !command1 | Does things. |
| !command2 | Does other things. |
| !command3 | Does even more things. |
Contributors
Add your and other contributors main streaming platform (Twitch, YouTube) below as a hyperlink, so people can check them out.
Wrappers
This category is solely for your reference, providing information about the types of wrappers you can utilize to display important information within your post.
This is a success wrapper.
This is a warning wrapper.